Organ Concert at St Francis Church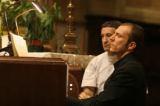 We are delighted to welcome back to Rhodes the illustrious organist Stefano Pellini who will give a concert of organ music in St Francis Church on Saturday 9th July at 8.30 in the evening.
Stefanos will also play the music for High Mass on Sunday 10th July in St Francis Church.
It is a pleasure to have him with us again and we wish him a happy visit to Rhodes.